WE'RE PROUD OF OUR HISTORY...AND EXCITED ABOUT OUR FUTURE
Since our founding in 1937, our mission has been to deliver hot meals and essential services that promote the independence of seniors so they may remain in the comfort of their own homes. In 2021, that mission expanded significantly. Meals on Wheels merged with Cincinnati Area Senior Services (CASS), creating one of the country's largest community-based organizations that provides direct and critical services to seniors.
In 2021, that merger resulted in 1.4 million meals to seniors in 12 counties, as well as a lot more: pet support services; transportation; shared/group meals and socialization; independent living assistance; and a full case management program focused on financial management, guardianship and protective payee services.
Those numbers make us the largest provider of home delivered meals in the area and one of the largest Meals on Wheels in the United States.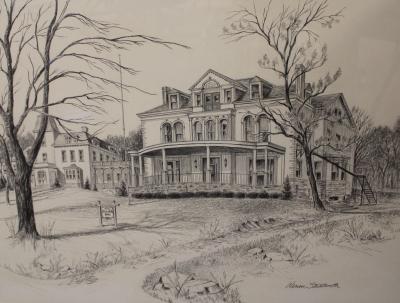 We have come a long way from our humble roots. We opened as Wesley House, a home for low-income seniors. In the 1940s, the increased need for senior housing, especially for those who were indigent, became a community-wide concern. Prominent Cincinnatians such as Louis Nippert, James Gamble and The Reverend Dr. L. H. Mayfield, as well as various faith groups, rallied around the cause.
In time, the Lincoln Crawford Care Center and an eight-unit building on Carmel Terrace were added to our list of facilities.
In 1981, home delivered meals were added to feed seniors on the Wesley House, then called Wesley Hall, waiting list. This program would grow rapidly to serve the many seniors who would otherwise be without adequate nutrition, companionship and someone to check in on them.
We added Independent Living Assistance in 2015 to help seniors manage some tasks, such as paying bills and scheduling doctor's appointments, so they can remain independent in their homes.
Our programming for seniors was further enhanced with our merger with CASS. Founded in 1967, CASS initially offered home-delivered meals and meals served in congregate settings in the community. CASS later broadened its services to include transportation, as well as services to help older adults deal with complex personal responsibilities, including financial management.
We continue to work closely with seniors, case managers, family members and caregivers to help keep seniors safe and healthy at home. Our in-home visits provide unique opportunities to meet nutritional needs, combat isolation, address safety hazards and provide holistic care.
But we are also working on new ways to address how we serve the community. We acquired a food truck so we can serve seniors meals in new and different locations. We began working with corporate partners so we can serve fresh food such as salads, and create apps so seniors can order food rather than struggle with getting groceries. We are even addressing larger health issues by utilizing food as medicine.