Fast Fact: Super Bowl Sunday is the second-busiest food day of the year behind Thanksgiving. More food is consumed during the game and the hours leading up to it than Christmas, Easter or July 4, according to the United Food and Commercial Workers International Union. We're talking 1.33 billion chicken wings, $2.77 billion worth of potato chips and $2.25 billion worth of tortilla chips. And, of course, more pizza is ordered on Super Bowl Sunday than any other day of the year.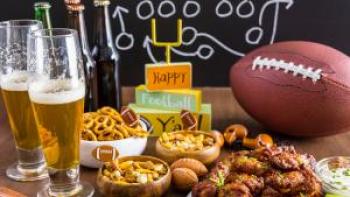 So with the Bengals taking on the Los Angeles Rams in Super Bowl LVI, we saw it as a perfect opportunity to partner with the Zero Hunger | Zero Waste Foundation by Kroger and get in front of a national audience to talk about the issues of senior hunger. Our CEO Jennifer Steele and Chief Giving Officer Kat Steiner are in Los Angeles, talking with the media, government officials and corporate officers about how they can help.
"We're one of the largest Meals on Wheels in the country, and one of the largest nonprofit organizations in Cincinnati and our region," says Steele. "For us to be in Los Angeles alongside Kroger to talk about senior hunger relief and highlight some of the innovative ways we're dealing with it just makes a lot of sense. And it's not just Cincinnati. This is an issue on a national scale and with a national impact, and we are leading the way."
Steele is also a member of the Board of Directors of Meals on Wheels America, the organization's national body.
Below will be a compilation of some of their efforts and activities. Follow their activity on social media, as well, with the hashtags #MuchMoreThanASuperBowl, #MOWdey and #ZeroHungerZeroWaste.
---
Having Fun While Getting It Done
Our CEO, Jennifer Steele, and Chief Giving Officer, Kat Steiner, made sure they documented Cincinnati's presence during Super Bowl Week in Los Angeles.