People go to Las Vegas for a variety of reasons—the gambling, the shows, the bright lights of Strip. Not Austin Ross. Nope. When Austin goes to Vegas, he's all business, and that business is bowling. And he has the bling to back it up.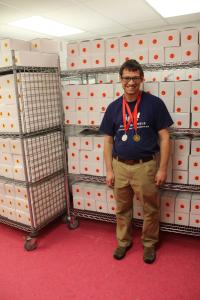 As he takes a break from his job of packing five-day snack boxes as part of the distribution team, Austin reaches into the pockets of his Carhart khakis and pulls out two large medals, one silver and one bronze. They are the reward from his last visit to Las Vegas on March 8-9 when he participated in the National Unified Sports Bowling Tournament put on by the Special Olympics. He finished second in the singles competition with scores of 156, 212 and 186, and third in the doubles. Neither he nor his partner bowled quite as well in the doubles tournament, but their opponents also struggled, so they were able to take home the bronze.
The medals shine in the morning sun, one side decorated with a bowling image and the other with the Special Olympics logo. Proud but unassuming about the hardware and hard work it took to get them, he shrugs and pushes them back into his pocket.
"I have a whole basket of them at home," he says.
Bowling found its way into Austin's life after he was age 5 when he was flipping through the channels on the TV one Saturday morning and ran across a Professional Bowlers Association tournament. The game was a natural fit. He bowled all four years of high school at Purcell Marian, even coming in third in the Greater Catholic League Tournament, beating out bowlers from Elder and LaSalle and a few other schools.
Since graduating in 2012, his games have mostly been reserved to league games every other week at Crossgate Lanes in Blue Ash, where he still maintains a healthy 180 average. He recently just missed a perfect game, rolling strikes in nine of the 10 frames, cursed by one bad roll in the fifth frame.
Asked what it is about bowling that he likes so much, he shrugs again.
"I don't know," he says. "I just love it. I love to see those pins explode."
Those exploding pins can create a problem, though.
"The other day I was bowling in my kitchen with a plastic ball. After a while I heard a knock on the door. It was my downstairs neighbor. Now I just practice in the garage."
While bowling is a year-round sport, Austin doesn't limit himself to the lanes despite his apparent skill at the sport and basket full of medals. He also plays basketball, soccer, skiing, softball.
"I'm good at all of them, too," he says.
---
SUPPORT AUSTIN
Jersey Mike's Subs is supporting Special Olympics in March. Customers can make donations at all restaurants or via the Jersey Mike's mobile app. The monthlong fundraiser culminates with Jersey Mike's "Day of Giving" on Wednesday, March 30, when Jersey Mike's restaurants will donate 100 percent of the day's sales to Special Olympics.